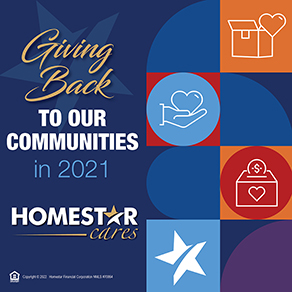 HOMESTAR and our employees are passionate about serving others. We invest in our communities by providing opportunities for homeownership and giving back through donations and volunteerism, which contributes to our communities' growth and development every day.
Here are just a few of the many ways HOMESTAR and our employees gave back in 2021: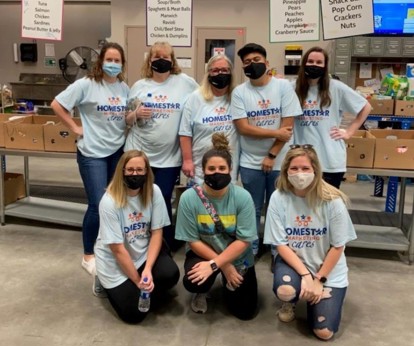 The Marietta, Georgia Branch donated $10,000 and supplies for Calvary Children's Home, a great organization for long-term foster children.
When an F4 tornado ripped through Coweta County, Georgia in March, many homes were badly damaged. After witnessing the devastation in their communities, the Newnan and Peachtree City branches partnered with HOMESTARCares and the American Red Cross to raise funds. Donations assisted with 144 hotel rooms, over 500 disaster items distributed, and over 490 clients served.
Mortgage Loan Originator Bryson Burt connected with his community in a unique way. To help children at his local elementary school celebrate the end of the school year, Bryson partnered with an ice cream truck to provide delicious treats for the first-grade classes.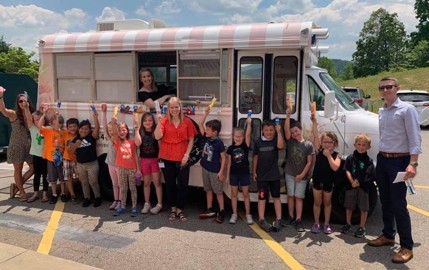 The Sims Team hosted a taco truck event in July, which doubled as a canned food drive. During the event, they were able to collect four pallets worth of canned food, all of which was donated to the Georgia Mountain Food Bank! HOMESTAR donated $250 to the Georgia Mountain Food Bank.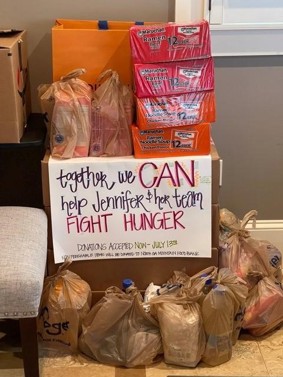 The Corey Cantrell Team's July service project benefited their local women's shelter, Circle of Hope. Their team provided supplies, such as toiletries and bedding, as well as toys and games for the kids at the shelter. HOMESTAR donated $250 to Circle of Hope.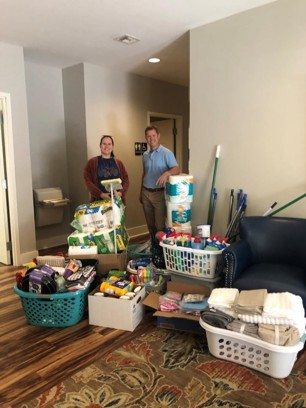 Members of HOMESTAR's Underwriting, Fastrak, and Post-Closing Departments teamed up to put on a back-to-school drive, donating school supplies to their local schools. Many of the team members that participated visited the schools together to deliver the donated supplies. HOMESTAR donated $250 to the Kids in Need Foundation, a nonprofit that provides school supplies to low-income schools throughout the country.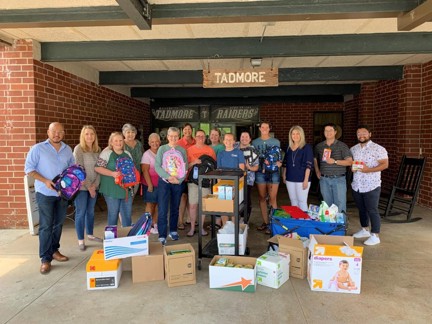 Branch Manager Lurree Pavis and her team took quick action to help others after tropical storm Fred blew through their area of North Carolina. Lurree and her team delivered an SUV full of canned food and clothing to a local Fire Department that was collecting donations for people affected by flooding. HOMESTAR donated $250 to the United Way of Haywood County, which helped residents recover from the storm.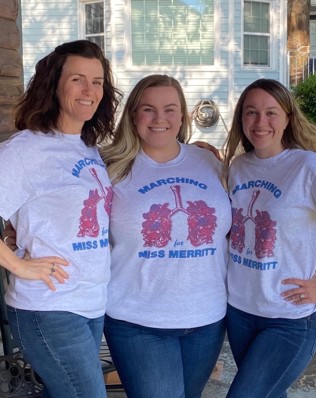 HOMESTARCares raised $5,405 for the Salvation Army, which helped communities throughout America recover from Hurricane Ida, Hurricane Henri, and flash flooding.
For more than a year, Branch Manager Keith Howell has served as President of the North Gwinnett Kiwanis Club, an organization dedicated to serving the Buford, Georgia community. One of the Kiwanis Club's biggest impacts on their community is their Vidalia Onion fundraiser, which has generated over $16,000 annually to provide college scholarships to local students! Several HOMESTAR employees have contributed to these fundraisers, too! Keith also organized the club's Annual Golf Tournament and was able to fundraise $18,000 for Home of Hope, a local shelter for women and children. Keith also partnered with LifeSouth Community Blood Bank to host a mobile blood drive to help benefit the local blood bank when they were experiencing shortages. Keith and his wife Michelle serve together by providing meals for families at Home of Hope and donating their time with other local charities. Thank you to Keith and his family for being an example of leadership in the community. HOMESTAR donated $250 to the North Gwinnett Kiwanis Club.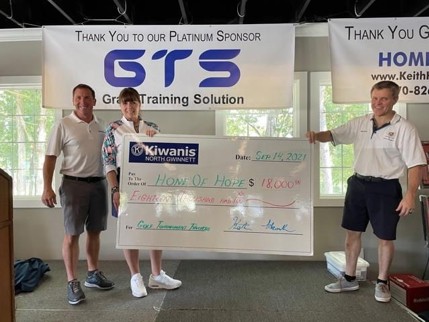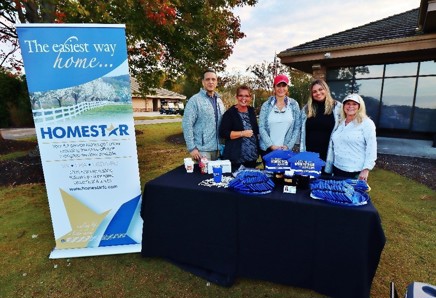 Members of HOMESTAR's Underwriting Team and Wendell Couch's Division raised $3,500 to host a luncheon for healthcare workers at Northeast Georgia Health System's Braselton Hospital. Amber Price, Jonna Jackson, and Kim Hicks were able to help with the luncheon on-site and meet some of the hospital staff. HOMESTAR donated $250 to the Northeast Georgia Health System Foundation.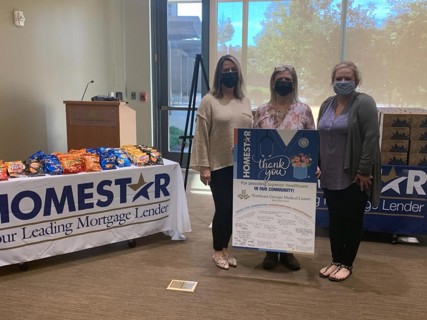 Mike and Sherry Kovak, a husband-and-wife team out of the Marietta Branch, have long had a passion for community outreach. For the past 15 years, the Kovak family has been involved in a nonprofit called 410 Bridge, a community engagement ministry that benefits developing countries. During their time with 410 Bridge, they have been able to serve dozens of orphanages in Uganda, working with the Children's Support program and children's choir. Their involvement in 410 Bridge became even more personal when they adopted their son, Aron, from one of the ministry's partner communities in Uganda. In addition to 410 Bridge, they are very involved in Camp Highland, a North Georgia summer camp ministry that impacts thousands of families through unique spiritual and physical activities. Mike has served on the board for seven years and has been able to influence the growth and impact that Camp Highland has annually. Like so many other families, the Kovak family has benefited from Camp Highland through their Father/Son and Father/Daughter weekend retreats, ropes courses, and outdoor adventure activities. Thank you to Mike, Sherry, and their family for being a great example of service locally and abroad. In honor of their service, HOMESTAR will donate $250 to Camp Highland.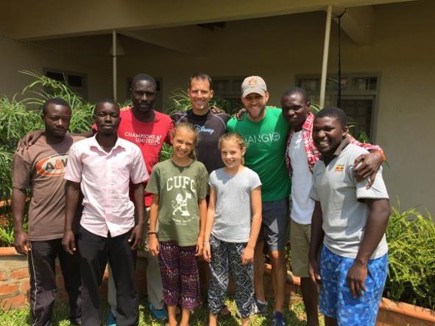 In November, the Closing and Post-Closing teams gave back to one of Gainesville's Fire Departments. As a simple way to thank their local first responders, members of these two teams sponsored a lunch for the firemen, and a few team members personally delivered the food to the station. Thanks to Closing and Post-Closing for their generosity! HOMESTAR donated $250 to Gainesville's Fire Department.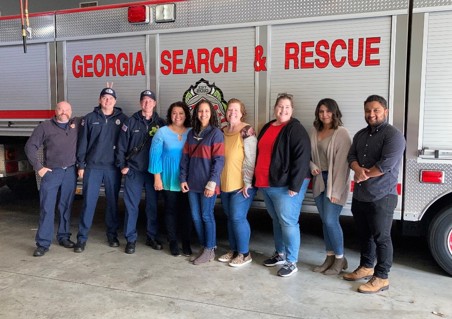 Team Stallings made Christmas donations to Calvary Children's Home and Camp Highland, two organizations that serve children in the Atlanta area. Team Stallings donated $30,000 to each organization and presented the check to both charities at their team's Christmas get-together. We're proud to see Team Stallings give so generously. HOMESTAR donated $250 to Calvary Children's Home and $250 to Camp Highland.
In early December, the Underwriting Department held their team's Christmas party and donated toward a great cause, too! During their holiday get-together, the Underwriting Team hosted a food drive for the Georgia Mountain Food Bank. The food drive continued for a week after the party, with food items being collected in the Gym of '36 breakroom. By the end of the food drive, the collection site was overflowing with donations!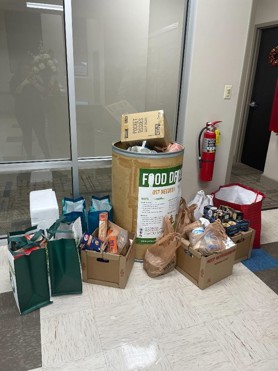 There are so many important causes that need volunteers and donations to help support the incredible, life-changing work they are doing. We encourage you to get involved by donating or volunteering your time – you can truly make a difference in the lives of those in your community.
#HOMESTARCares