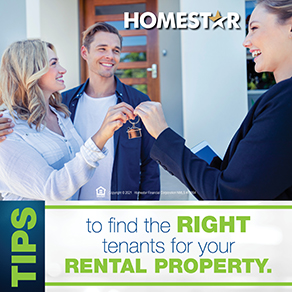 If you've purchased rental property, you need to find great tenants to rent to. You don't want your rental property to remain vacant for too long, but you also want to avoid wasting valuable time and money down the road with unqualified tenants. That's why it's crucial to take your time and be selective. Follow these tips to find the right tenants from the start:

What makes a great tenant?

The answer to this question depends on what matters most to you as the landlord. Consider a tenant who will:
Make payments in full and on time.
Take care of the property.
Notify you when something goes wrong.
Live in the property long-term.
How do I find great tenants?
Comply with the Fair Housing Act.
Read and understand federal and state laws that cover the tenants and landlord. The Fair Housing Act protects people from discrimination when they are renting a home. You may not base your decision on race, religion, national origin, gender, sex, age, familial status, and disability.
Ensure the rental property is well-maintained.
Before you market your property (that's the next step!), make sure it's clean and ready for individual showings or a rental open house. Inspect everything and take care of last-minute repairs, remove clutter, etc. With a well-maintained rental property, you are more likely to attract high-quality tenants that are in it for the long haul.
Market your property.
Market your property to draw in tenants. You can find them online or offline through:
Rental websites
Your website (if applicable)
Social media
Online and printed "Classified" sections of local newspapers
"For rent" signs
Flyers
Referrals from family and friends
In your property listing, be sure to include the following:
High-quality photos
Description of the property
Number of bedrooms and bathrooms
Unique features, such as a garage, basement, or pool
Rent price
Deposit amount
Lease term (six months or one year)
Date it's available to move in
Your contact information
Be sure to respond promptly to any questions and requests to meet and tour the property.
Meet in person.
Meet with potential tenants one-on-one or consider hosting a rental open house. By meeting in person, you can get an initial impression of whether the potential tenants will be responsible, and they can see the home for themselves to determine if it's the right fit. If it's impossible to meet the potential tenants in person, arrange video calls.
Check references.
Request and contact potential tenants' references, including calling past landlords, employers, and personal references. This will give you a better idea of their rental and financial history. Here are some questions you can ask:
How do you know them?
How long were they a tenant?
What was their monthly rent amount?
Did they consistently pay rent on time?
Did they maintain the property well?
Why did they leave?
Would you rent to them again?
Can you confirm they are/were employed at your company?
What is/was their position with your company?
Do they/did they arrive to work on time?
How do you/did you like working with them?
How long have you known them?
Do they have pets?
How would you describe their overall character?
Upon calling, don't bombard their references with too many questions. Choose a few and have a real conversation. Capture the entire picture of what the tenants are really like.
Run credit checks.
One way to verify that your potential tenants can afford to pay rent every month is by running a credit check. You will need to get the potential tenants' written permission via a consent form before running a credit check, as it includes their personal information. A credit report looks at the following when screening tenants:
Credit score
Payment history (on-time and late)
Residence history
Bankruptcies
Convicted of a crime
Involved in a lawsuit
Evictions
There are many services out there where landlords can run a credit check. However, you can run a credit check through one of the three major credit bureaus:
Potential tenants may be required to pay a fee for this service.
Request background checks.
Another way to screen your potential tenants is by requesting background checks. The three major credit bureaus offer background check services as well:
Potential tenants may be required to pay a fee for this service.
Take a deposit.
You've gone through all the important steps, and you feel like you've found the perfect tenants. Before you move forward, remember to take a deposit that is larger than the monthly rent amount. A deposit can cover the unexpected, like damage to your property or missed payments. If they are hesitant to pay the deposit or want to break it up into payments, that could be a red flag, and you may need to reach out to other potential tenants who are also qualified.
Don't settle.
Always trust your instincts. If something seems off, do what you feel is best. After all, this is a significant asset, and you want to ensure you manage it wisely. That starts with finding the best tenants now, not later.
There are many wonderful tenants out there. If you follow these tips, you are more likely to find them – making your job as a landlord even easier. Best of luck in your search!
Are you thinking about purchasing rental property? Here's what you need to know when it comes to how to be a landlord.