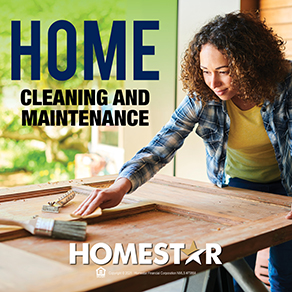 Just like a routine wellness check-up, cleaning and maintenance schedules are essential for your home's upkeep. These tasks may not be at the top of your list – but taking it a step at a time is worth it in the long run as you can save time and money. Start small with daily tasks, and work your way up as you go – we assure you, it will make a BIG difference!

To help you, follow these daily, weekly, monthly, and yearly cleaning and maintenance checklists to keep your home in good health throughout the year:

Daily: Don't spend more than a total of 30 minutes on these tasks every day.
Make bed(s)
Tidy up clutter on the floors and countertops
Sweep or vacuum as needed (cordless vacuums are amazing for quick clean-up!)
Wipe down countertops, remotes, phones, and switches
Complete a load of laundry
Weekly: Try organizing these by tackling one each day of the week – see how below!
Monday: Clean bathrooms
Tuesday: Wipe down all appliances in the kitchen
Wednesday: Vacuum and/or mop floors (again, cordless is the way to go!)
Thursday: Trash day! Take out all trash
Friday: Dust countertops, furniture, electronics, shelves, picture frames, etc.
Saturday: Wash sheets and towels
Sunday: Tackle a small maintenance task in your yard
Monthly: Try focusing on one area of your home at a time throughout the month. Start with your kitchen – some of these will only take a few minutes!
Clean all appliances: oven, dishwasher, refrigerator, freezer, sink disposal, washer, dryer, etc.
Wipe down all cabinets in the kitchen and bathrooms
Clean and/or replace filters/vents for the dishwasher, dryer, furnace, humidifier, dehumidifier, etc.
Polish furniture
Vacuum and wash drapes, rugs, baseboards, walls, and ceiling fans
Wash quilts, duvet covers, pillows, etc.
Spot clean furniture and rotate/vacuum mattress(es)
Run water and flush toilets in unused spaces
Check your smoke and carbon monoxide detectors (replace batteries, if needed)
Locate and check fire extinguishers
Clean up the yard and remove debris, leaves, and more
Inspect the outside of your home for damage and make repairs as needed
Yearly: You can address these more often if you would like!
Organize, dispose, and donate unneeded items in closets, the basement, the attic, or the garage
Deep clean carpets, sofas, chairs, etc.
Tighten any door handles, locks, knobs, etc.
Have your chimney inspected for deterioration, water damage, and other signs of wear
Wash windows and/or screens
Pressure wash your home, deck(s), and outside furniture
Clean out the pool and/or hot tub
Clean out the gutters
Complete a large outside home maintenance task that is on your list
A home is a significant investment and caring for it is a huge responsibility. These checklists can help you manage cleaning and maintenance for your home year-round, all with a small amount of effort. Just an hour a day can be beneficial for both you and your home – cleaning can be a way to de-stress, and your home will be all the better for it! A win-win!
HOUSE SELLING TIP: If you decide to sell your home, follow these checklists and deep clean before having listing photos taken and hosting showings (either virtual or in-person). The details matter to prospective buyers!
You can also refinance your home to save money and use it for home improvements! Contact your local HOMESTAR Mortgage Loan Originator to get started with the process.