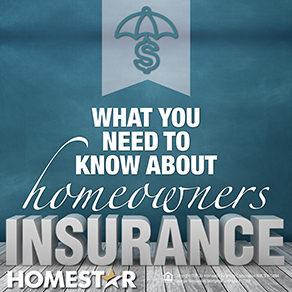 Most, if not all, mortgage lenders require borrowers to obtain and provide proof of insurance coverage for the full or fair value of a home. Even if you are not required to obtain homeowners insurance, it's still a smart idea to have this protection to cover one of the largest purchases in your lifetime.

Here's what you need to know about homeowners insurance:

Homeowners insurance can be customized and covers a broad range of possible damages, which can include:
Dwelling: Repair or rebuild damage to the interior or exterior of the home
Other structures: Protect structures not attached to the home, such as fences and sheds
Personal property: Loss or theft of possessions, such as clothing, furniture, electronics, and more
Liability protection: For injuries or damage to someone or someone else's property while on your property
Loss of use (ALE; Additional Living Expenses; Coverage D): Typically, it is 20 percent of your dwelling coverage limit and covers additional living expenses or costs that might incur if a covered event makes your home temporarily unavailable (needs to be rebuilt or repaired)
Additional coverage can be purchased in addition to the standard homeowners insurance policy, such as coverage for damage caused by earthquakes and floods. Your mortgage lender may require you to purchase additional insurance to cover floods.
Other terms to be aware of:
Deductible: Amount paid out-of-pocket before insurance kicks in; a higher deductible means a lower annual premium.
Premium: Price paid for insurance, usually monthly or annually.
Riders: Coverage you can include for specific items, such as fine art of jewelry.
Homeowners insurance does not typically cover the following (though you can purchase special coverage for some):
Mold or mildew
Dry rot or wet rot
Sewer or drain backups
Sinkholes
Floods
Construction work damage
Termite infestation
Stolen or destroyed cash
Trampoline accidents
Animal attacks
Pool accidents
Explosions
Jewelry or fine art
So, where do you begin? Here are steps you can take to find the right homeowners insurance for you:
1. Research and gather information about your home before you request homeowners insurance quotes, including:
Address of your home
Insurance appraisal
Prior insurance inspection reports
Prior insurance on the home
Lender requirements (like flood insurance)
The cost to rebuild
Current materials used in the home (includes exterior)
Additional structures on the property
Age of the home
Age of the roof
Type of heating system
Pools and trampolines you have
Pets you have (certain dog breeds reflect a different price)
And possibly more
You may also be asked to provide personal information when requesting homeowners insurance quotes. It's a good idea to have this information handy:
Date of birth
Occupation
Social Security Number
Property history
Liability questions (about pets, trampolines, pools, etc.)
Know what you need by looking into various levels of coverage. U.S. News and World Report recommends understanding each level of coverage:
HO-2: Broad policy; protects against 16 perils named in the policy
HO-3: Broader policy; protects against all perils in policy except those specifically excluded
HO-5: Premium policy; protects newer, well-maintained homes
HO-6: For co-ops/condominiums
HO-7: Similar to HO-3; applies to mobile homes
HO-8: Specifically for older homes; coverage similar to HO-2
2. Search online and contact multiple carriers of homeowners insurance, request quotes, and compare rates. The easiest way to do this is to contact an insurance broker with the details of your home, and they can compare and find the best rates for you. Look into and ask about discounts as well, such as bundling your auto insurance with your homeowners insurance.
Characteristics to look for when choosing a homeowners insurance company:
Excellent customer service
How well they handle claims (timely manner, any past issues, etc.)
Coverage options
Available discounts (bundling home and auto, etc.)
Competitive pricing (you don't always need to select the cheapest option)
Background, years in business, finances, etc.
It's also a good idea to ask family and friends for recommendations and to share their experiences with insurance companies.
3. When comparing rates, don't just focus on the price. Dive deeper into what coverage is included or excluded and shop based on the value you are receiving for your money, as well as coverage for everything you need. Avoid paying for more than you need.
You may opt to escrow your insurance payments with your mortgage payments. Mortgage lenders typically prefer this as it confirms payments are being made and the property is always protected.
4. After deciding on the insurance company and coverage needed, notify your mortgage lender. Once the mortgage lender approves the policy and dates are set, you are ready to sign the contract!
The insurance carrier will likely perform an inspection to ensure all is in order and the coverage is correct. If anything is incorrect or you forgot to mention something, the adjuster will note any errors and changes will be reflected in the next bill.
If you have any questions regarding homeowners insurance or the process, please reach out to your local HOMESTAR Mortgage Loan Originator.
Source:
https://www.usnews.com/360-reviews/homeowners-insurance/things-to-know-when-buying-homeowners-insurance