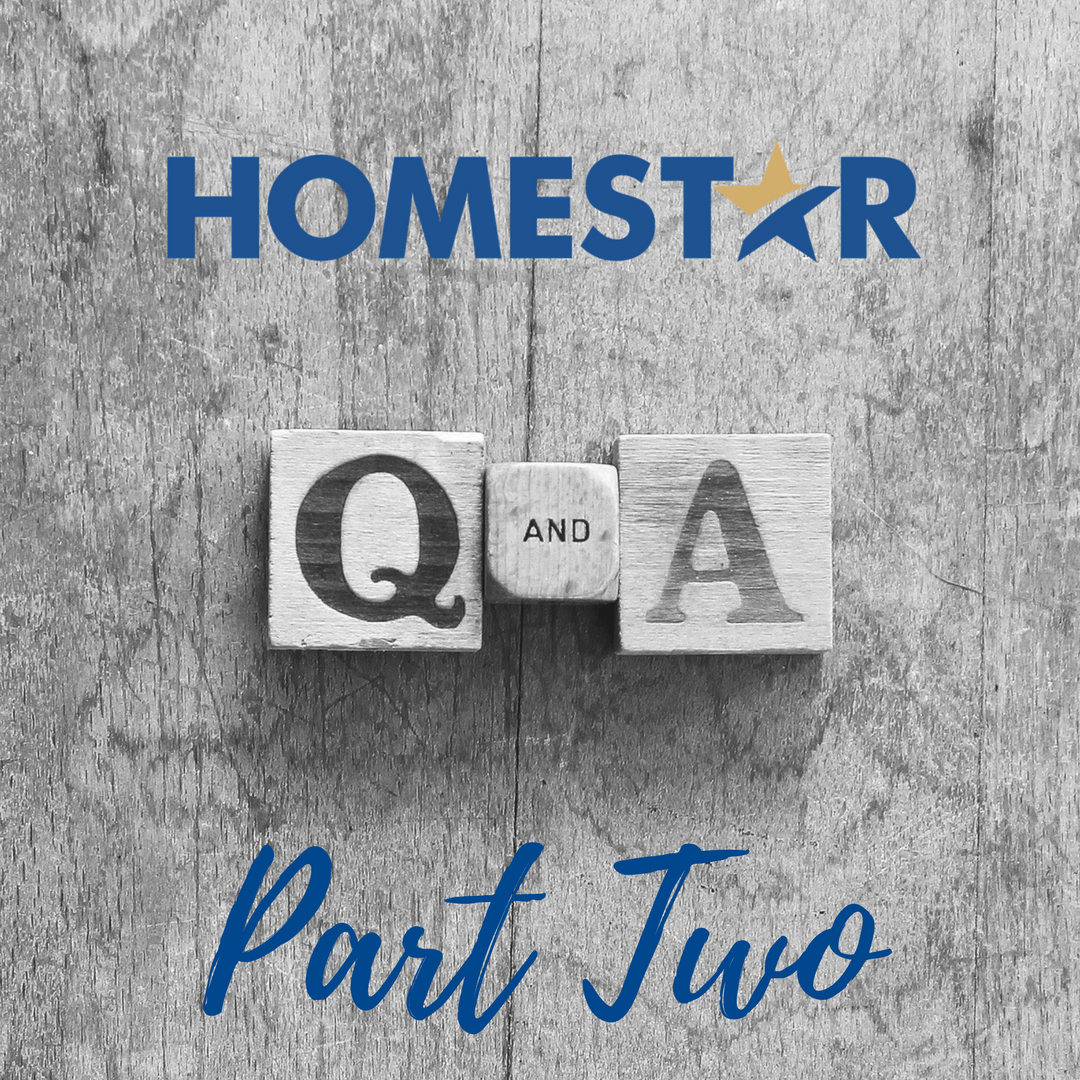 In a previous blog, we covered five common questions the HOMESTAR Team receives from potential and current clients throughout the homebuying process. Good news–we have gathered five more questions to help you along the path to homeownership. Be sure to read the final part of this three part series–Part Three–where we answer five more questions that are common in the homebuying process.

5 Homebuyer FAQs answered:

1. Q: What is HOMESTAR's interest rate?

A: The rate has variables depending on credit score, debt-to-income ratios, and loan amount. We can help determine this based on your specific situation.

2. Q: Are there any mortgage loan programs for buyers with little or no credit?

A: Yes. You can look at our FHA program, where non-traditional credit can be used.

3. Q: What is the difference between an appraisal and an inspection? Which do I need?

A: An appraisal by a professional appraiser is required for most loans. It is an opinion of the value of your home compared to others like yours in the same area. A home inspection is not always required. It is a wise investment for a home you intend to live in for many years; the inspector will look at the plumbing, electrical, HVAC, roof, etc., the systems of the house, and see what needs repair or replacement.

Well and septic system inspections may be required if they apply to your home. A Structural Engineer Report on a manufactured home is required to ensure the property meets safety requirements.

4. Q: What is MI and why do I have to pay it?

A: MI is "mortgage insurance" and it is required on all loans where the down payment is less than 20 percent. MI gives people with only a small amount of savings the opportunity for homeownership.

5. Q: What is the best way to buy a home with the least amount of money?

A: The USDA home loan is an option for buyers on a strict budget. Benefits include:
No down payment required
Closing costs payment can come from any source
Easy qualification
Lower upfront funding fee, along with a low monthly USDA fee
Didn't see your question answered here? Don't worry–you may contact us anytime! Ready to get started? Learn more about our loan options here.
Don't forget to check out Part Three of our "Homebuyer FAQ" series where we answer five more questions we often receive from clients before or during the home loan process.
Missed Part 1 of our "Homebuyer FAQ" series? You can reference the post here.
Copyright © 2020. Homestar Financial Corporation NMLS #70864 Georgia Residential Mortgage Licensee #17368. This is not an offer to enter into an agreement or a commitment to lend. Not all customers will qualify. All terms, information, conditions, rates, and programs are subject to change without prior notice. All products are subject to credit and property approval. Not all loan products are available in all states. Certain other restrictions may apply. For important licensing information, refer to nmlsconsumeraccess.org. Homestar Financial Corporation is an equal housing lender and is not affiliated with any government entity. Posted 5/4/2018. Updated 10/14/2020.