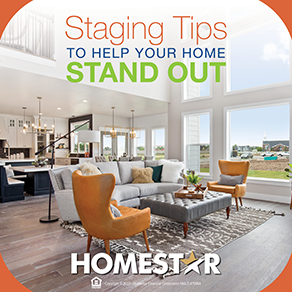 Selling your home is no easy task, but there is one thing you can do to make it easier: stage it!

Home staging is a method of decorating where you showcase your home's greatest assets to impress potential buyers and sell it quickly for the best possible price. According to the National Association of Realtors (NAR) 2021 Profile of Home Staging, 23 percent of buyer's agents said that staging a home increased the dollar value offered between 1 percent and 5 percent, compared to other similar homes on the market that are not staged.

Here are 10 staging tips to help your home stand out:

1. Focus on rooms that have the greatest potential.

Going back to the NAR report, the living room, master bedroom, and kitchen are the most important rooms to buyers. Keep them cozy, inviting, and warm.

2. Make a solid first impression.

The first thing the buyer is going to see is the home's exterior. You can make a solid first impression by ensuring the lawn is neat, the windows are clean, and the pool is crystal clear.

3. Clean, clean, and clean some more.

A clean home suggests to buyers that you have taken great care of it. From the floors to the baseboards to the spots where no one would dare to look, make it all sparkle.

4. Give them space.

Make the home appear spacious and functional by removing the clutter. A cluttered space can distract buyers from focusing on the most important aspects of the home.

5. Light is your best friend.

No one wants to walk into a dark, drab home. Brighten up the home by letting as much natural light in as possible (this also helps with making rooms feel bigger!).

6. Keep the canvas blank.

A buyer wants to walk into the home and visualize the space as their own. So, depersonalize it by storing away family photos, personal items, clothes, and other mementos.

7. Freshen things up.

Plants are a great way to freshen up any space. You'll also want to remove any lingering smells that can turn off buyers, like pet and sink odors.

8. Give it a little TLC.

Home staging is the perfect time to go through your home and take care of any nicks, scratches, scuffs, and holes that you've been putting off. Even the smallest details matter.

9. Bold colors aren't for everyone.

Bold colors in the home are fun, but keeping things neutral is best so that you can appeal to a wide range of buyers. Paint over bright colors with neutral colors, like gray, beige, or off-white.

10. Make the final touches.

Before any open house or showing, make a few last-minute touches to add to the warmth of the home. Put out fresh flowers, light a candle (subtle fragrance), or let some fresh air in.

Staging is a great tool to help you sell your home and shouldn't be overlooked. The best part is that it doesn't require a lot of time and money on your part. Now, take these tips and make your home every buyer's dream!